Francesca Cao (Italy): The Lion of Central Asia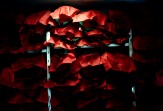 Kazakhstan is the ninth country in the world for extension. Its history begins with the nomads in the steppe until the Russian invasion in 1890, which persists until the fall of the Soviet Union and the election of president Nazarbayev in 1991, who declares the Republic of Kazakhstan.
The first oil discovery is dated 1979, when Kazakhstan was part of the Soviet Union, but considered a giant desert for nuclear garbage. In the past twenty-eight years, everything changed for Kazakh people. The fall of the Soviet Union in fact had many hard consequences on the population, result of the country's total dependence. From 1991 the main export becomes oil and in 2003 they are valuated more than 7 billion dollars, representing 65% of the total.
Isle D is the only example in the world of artificial Isle built to extract gas and oil from Kashagan, a field in the north part of the Caspian Sea in Kazakhstan. Discovered in the year 2000, this field is considered to be one of the major Oil discoveries in the past thirty years and is assumed it will produce nine to sixteen milliard barrels. The weather conditions are extreme since the temperature goes over 40° C in the summer and below -30 in the winter. … read more