Laura Morton (US): The Social Stage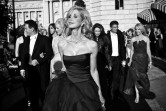 San Francisco, California has a thriving culture of what is often referred to as high society. This small group of wealthy people attends numerous glamorous social events with each other throughout the year to socialize while financially supporting local cultural institutions and other charity organizations.
The large galas to celebrate the openings of the opera, symphony and ballet and those in support of local museums are some of the most high profile parties to attend for people who wish to be a part of such society. These elaborate events give participants a chance to dress up, mingle with one another and generally see and be seen on the social stage.