The Inge Morath Foundation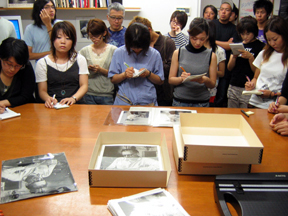 The Inge Morath Foundation was established in 2003 to facilitate the study and appreciation of Inge Morath's contribution to photography.
The Foundation serves as a public resource for the international community of scholars and curators, as well as general audiences interested in Morath's work, and supports work in three program areas: Grants and Awards; Educational Programs; and Traveling Exhibitions.
The Foundation holds an archive of Inge Morath's work and related materials that is unsurpassed in scope and depth. Comprised of thousands of items from all periods of Morath's life, the archive includes Morath's collection of her own works, her contact sheets, caption books, and writings related to her work. The Foundation uses this resource for its own work as well as to encourage and support students, scholars, and curators in their research (credit scott). All works owned by the Foundation are available for inclusion in museum exhibitions. The Foundation also holds the copyright to Inge Morath's photographs and writings.
Internship opportunities, assisting the archivist and director with the daily operations of the Foundation, are occasionally available for qualified applicants. Address inquiries to: info@ingemorath.org.
For licensing information, please contact Magnum Photos/New York. To inquire about print sales, please contact the Howard Greenberg Gallery or Magnum Photos/New York.